Photography Details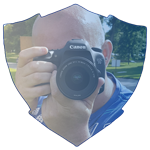 Franky Ireland Photography is a website based around the hobbyist photographer Franky Ireland who is located in Scotland, Dundee.
He enjoys taking pictures of landscapes and holiday events like bonfire night, and also capturing photographs at major events such as the British touring cars or super-bikes.
Franky has been taking photographs for quite a few years and he feels that his skills have improved with time. His hobby first started with him capturing photos of family members and friends.
Photography came quite naturally to Franky, his current tool kit would be photo editing software such as Adobe Lightroom CC and Photoshop CC of which he has been using for many years now, he is quite experienced in Adobe Software.
His current camera is a Canon EOS 7d mark II, he also has quite a few different lenses which range from; 17 - 55 mm, 50 mm prime, 85 mm prime, 70 - 300 mm and a 170 - 500 mm lens. The last two lenses are mainly used for shooting Motorsports.
The Franky Ireland Photography website has a wide range of information available, such as a small bit of information about Franky, different types of photography in the navigation bar such as Landscape and Events.
Lately he has been creating film footage of his surrounding area using by my Zhiyun Smooth 4 Phone Gimbal Stabilizer and of course his mobile. Feel free to check out the footage he has uploaded on to Youtube